Event Details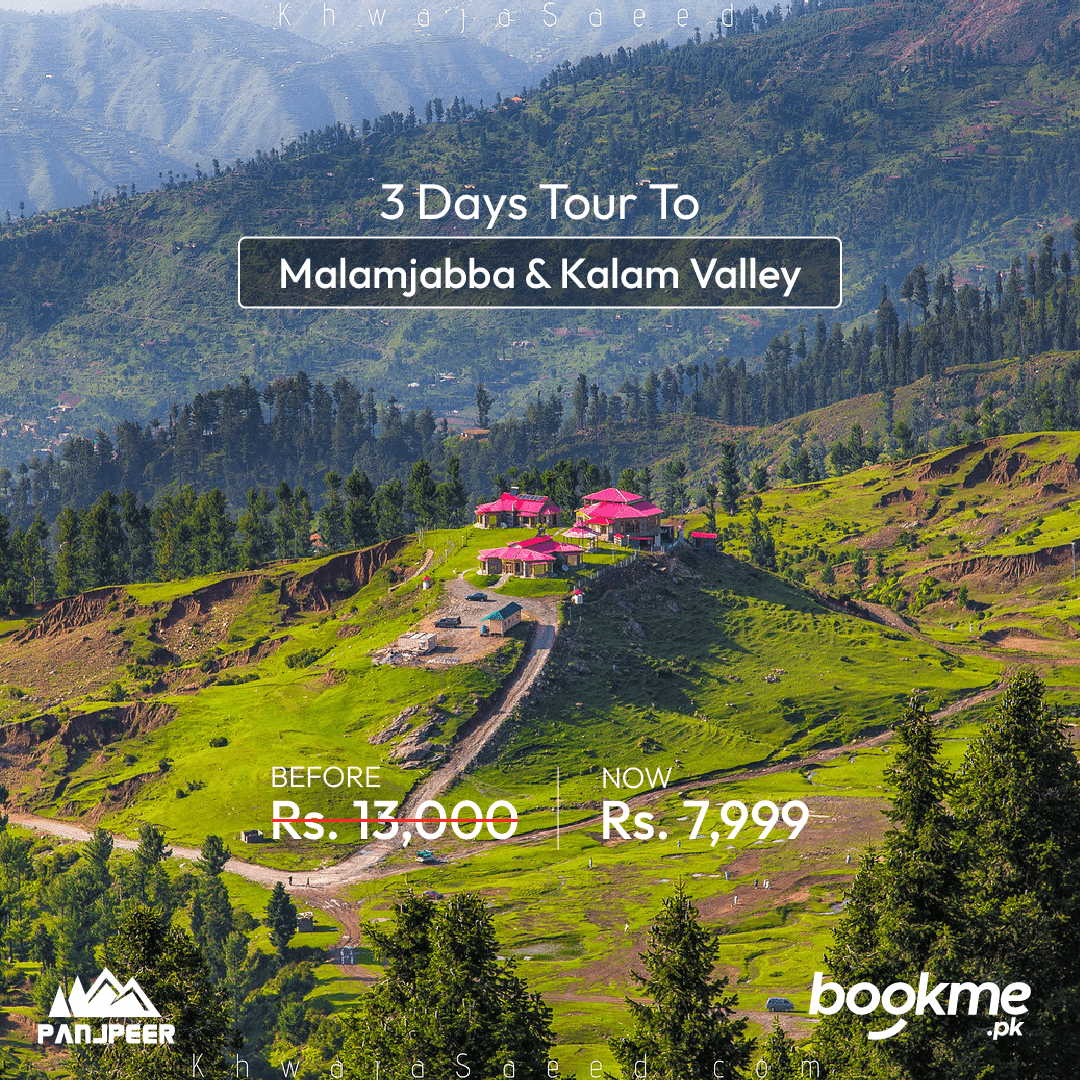 Venue:

Departure on every Thursday night from Lahore
Happy Women`s Month to all the amazing ladies who refused to be erased or made invisible. Keep shining on! PanjPeer decides the month of MARCH as a Women`s Month and offers a 38% Discount for our 3 Days Swat Valley Tour. Tour Duration: 3 Days 2 Nights Swat Tour. Departure from Lahore on Thursday night and from Islamabad/Rawalpindi Friday Morning. Available Dates for 3 Days Tour: Trip 1: 10 to 13 March 2022 Trip 2: 17 to 20 March 2022 Trip 3: 24 to 27 March 2022 Regular Price: Rs. 13000/- Per Head Promo Package: Rs. 7,999 (After 38% Discount) Single Package: Rs. 7,999/- Per Head 4 Persons Sharing in One Room Twin Package: Rs. 9800/- Per Head 2 Persons Sharing in One Room Note: Infants are free and 50% off for kids for the age from 4 Years to 8 Years old and will be given a jumper (center-folding) seat. And there is no further group discount as it`s already our discount offer for Women`s Month. Main Services Included: Ac Transportation Food - 3 Breakfasts & 2 Dinners 2 Night Hotel Stay 4 per Room (Bed & Mattress) Fuel/Diesel/Toll Expenses Native Tour Guide Bonfire, Music Night Services Not Included: 4x4 Jeep for Mahodand Lake Tickets for Malam Jabba Last Dinner, Lunch, drinks, laundry Insurance, Medi Aid & Heli Rescue Extra Transport Due To Snow Zip Line & Chairlift or any activity Main Attraction: Mountains, Misty Mornings, Boating, River Rafting, Cultural Bazar of Swat Valley, Jeep Safari, Bonfire Areas to Cover: Swat Valley, Mingora, Fizzaghat, Swat River, Malam Jabba, Bahrain Valley, Kalam Valley, Ushu Forest, Mahodand Lake Adventure Highlights: Day 00 - Thursday: Report Time: 09:30 PM Departure From Lahore On Thursday Night at 10:30 PM Travel Via Motorway Day 01 Friday: 20 minutes stay at Bhera Interchange Arrival at Islamabad Interchange around 4:00 am Pick up Islamabad/Rawalpindi participants On Friday Morning Arrival at Swat 7/8am, Breakfast Omlet/Half Fry, Bread, Jam, Chanay, Parathay, Tea (Buffet Serving) Short Rest to get ready for Adventure Leave for Malam jabba Visit Malam Jabba Surroundings Enjoy Chairlift Ride, Zip Line, Leaf of Faith, Wall Climbing And Many more adventures Departure for Behrain/Kalam Valley Night Stay & Dinner at Bahrain/Kalam Valley Chicken Karahi, Salad, Raita, Roti, Cold Drinks (Buffet Serving) Day 02 Saturday: Breakfast Time Omlet/Half Fry, Bread, Jam, Chanay, Parathay, Tea (Buffet Serving) Short Rest to get ready for 4x4 Jeep Safari Leave for Mahoodand lake Explore Ushu Forest, Mataltan Waterfall, Chashma Shifa, Falakser Peak View Visit Last accessible point towards Mahodandd Lake Drive Back to Kalam Valley BBQ, Music & Bonfire Night & Night stay at Kalam/Behrain Chicken Qorma, Dall Mash Makhni, Salad, Raita, Cold Drinks (Buffet Serving) Day 03 Sunday: Departure for Bahrain Valley Breakfast at Bahrain Omlet/Half Fry, Bread, Jam, Chanay, Parathay, Tea (Buffet Serving) Departure for Lahore With memories of Lahore Drop Islamabad Members Back to LHR at 12:00 AM Night And we`ll wish you happy Goodbye +/- 2 or 3 Hours can be minus or added to the route plan due to the current traffic situation. Essentials to Carry: Original CNIC, Backpack, Raincoat, Trekking shoes, Trekking stick, Warm jacket, Warm clothes, Warm socks/gloves/cap, Sunblock, Sunglasses, Sandals, Torch, Water bottle Seating Policy: Seat allocation will be the sole discretion/decision of the Guide on tour. Rs.1000/day/seat extra for booking some special seats. NOTE: ON ADVENTURE TREK/ TRIP OF THIS TYPE, WEATHER, LOCAL POLITICS, TRANSPORT OR A MULTITUDE OF OTHER FACTORS BEYOND THE CONTROL OF ORGANIZERS CAN RESULT IN A CHANGE OF ITINERARY. IT IS, HOWEVER, VERY UNLIKELY THAT THE ITINERARY WOULD BE SUBSTANTIALLY ALTERED; IF ALTERATIONS ARE NECESSARY THE LEADER AND GUIDE WILL DECIDE WHAT IS THE BEST ALTERNATIVE, TAKING INTO CONSIDERATION THE BEST INTERESTS OF THE WHOLE GROUP. Cancelation Policy: 1. 48 hours or less, 100% cancellation charge does apply. 2. 3 days or more, 50% cancellation charge does apply. 3. 7 days or more - 30% cancellation charge does apply. 4. No amount will be refunded if any person leaves the trip at any stage due to any reason. Terms and Conditions: The organizers have the right to cancel the event at any time without prior notice. Immoral conduct/ misbehaving with organizers/team members or participants is strictly prohibited. Smoking in the transport vehicle is strictly not allowed under any circumstances. Females should be given special respect and privacy privileges in all circumstances. A member needs to have prior permission before taking pictures of other members. (Especially females) (If found guilty of taking pictures without consent the memory card will be confiscated permanently.) Local`s norms and traditions should be respected at all times. Members will be accountable for any garbage by them. Please show the sign of being an educated nation. Environmental care is a must. No garbage will be disposed of. Keep the wrappers and empty bottles with you and dispose them off properly. Arrival and Departure timings can be different from ones originally mentioned due to unforeseen circumstances and PanjPeer will not be responsible for such delays. Disclaimer: Team members will not be responsible for any theft of personal items. Kindly keep your belongings under your supervision at all times. We are not responsible for delays due to Acts of God, political reasons, and unavoidable circumstances. We shall not be held responsible for any insurance claims in case (God forbid) any accident shall happen. All activities shall be done by members of their own accord and we will not be responsible for any mishaps whatsoever. We will not be responsible for anything not mentioned explicitly.
Need Help?
We would be more than happy to help you. Our customer support team is available 24/7, 365 days a year.
Why BookMe?
Bookme has the largest pool of bus operators with real time seat plan.

Bookme offers guaranteed lowest fares with savings of up to 40%.

Bookme charge no fee on airline tickets to offer best possible fares.