Event Details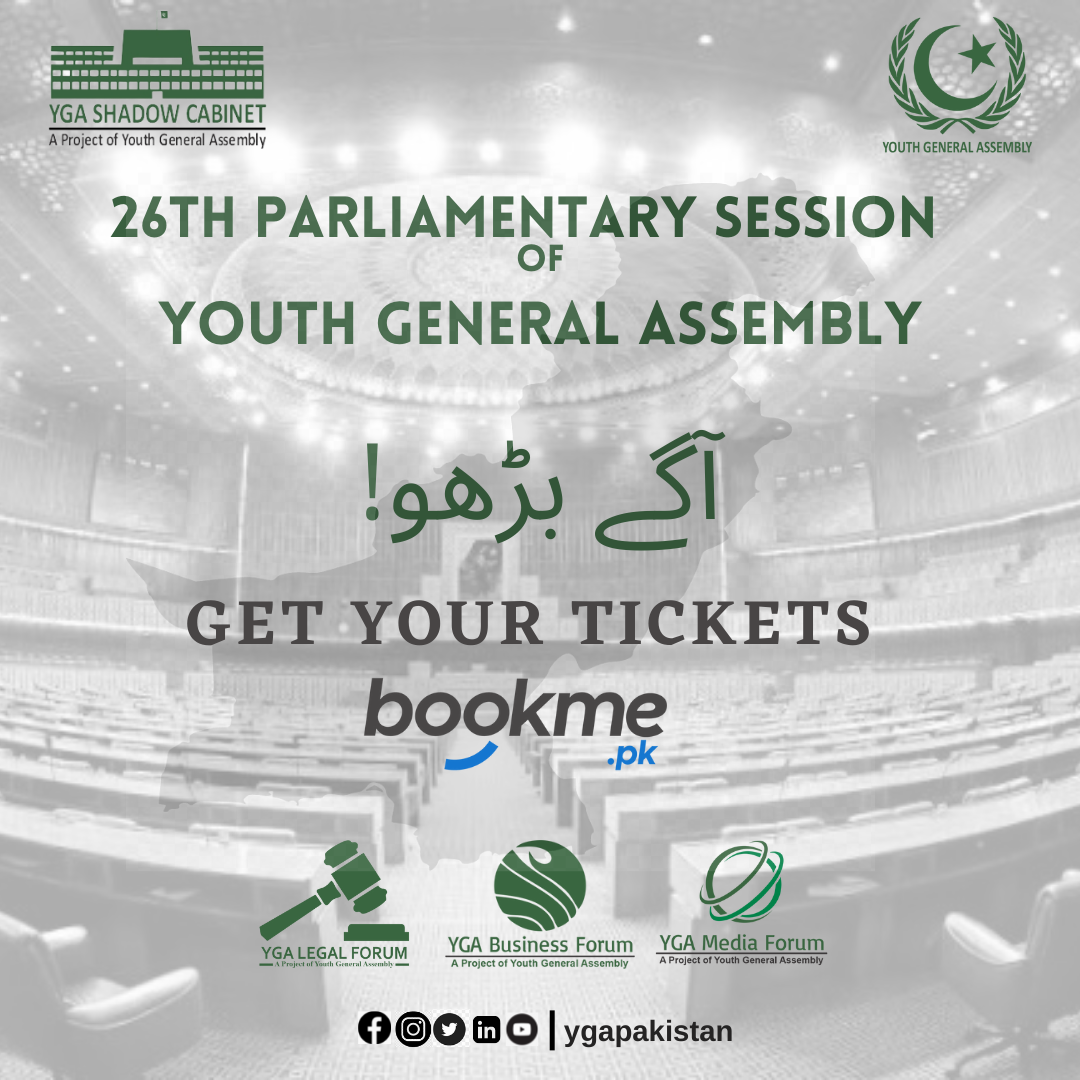 Venue:

Al Razi Hall University of the Punjab, Lahore
Dear Future Leaders, Youth General Assembly is an autonomous assembly that has been formed in order to provide a credible platform that instigates a true sense of policy & strategy making, equitable administration and non-customary legislative, and public speaking by empowering enthusiasm in youth for being the future ambassadors and democrats. The aim is to inculcate the convening and confronting qualities among the youth to expand their perspective and knowledge regarding true democracy and parliamentary politics. Youth General Assembly, keeping up with its tradition, is organizing its 26th Parliamentary Session for young individuals who aspire to be the future leaders and democrats of this country. The aim of the Assembly Session is to devise policy recommendations on the pertinent issues young minds of today are facing. Dates & Venue: 4th of June: In-person Session at Al-Razi Hall, University of the Punjab, Lahore 5th of June: Virtual Session via Zoom YGA Parliamentary Session will be organized following the format of the session of the National Assembly of Pakistan. Participants will be given a time slot to present their recommendations and policies on the given agenda (which shall be conveyed to registered participants). Certificates will be provided to all participants. Best Parliamentarian Award will also be presented to the participant with the best performance. Moreover, participants with the best policies and recommendations will also get the chance to become part of the YGA Shadow Cabinet 2022. To know more about YGA Shadow Cabinet 2022 read the document provided in the link given below; https://drive.google.com/drive/folders/13V5tOt98gxdy-bVFe6xLxMyOIu6J6Jjq?usp=sharing The last Date to buy your pass is the 24th of May, 2022. Once you have paid, you will receive an email from Youth General Assembly with all the details (agenda & study material).
Need Help?
We would be more than happy to help you. Our customer support team is available 24/7, 365 days a year.
Why BookMe?
Bookme has the largest pool of bus operators with real time seat plan.

Bookme offers guaranteed lowest fares with savings of up to 40%.

Bookme charge no fee on airline tickets to offer best possible fares.