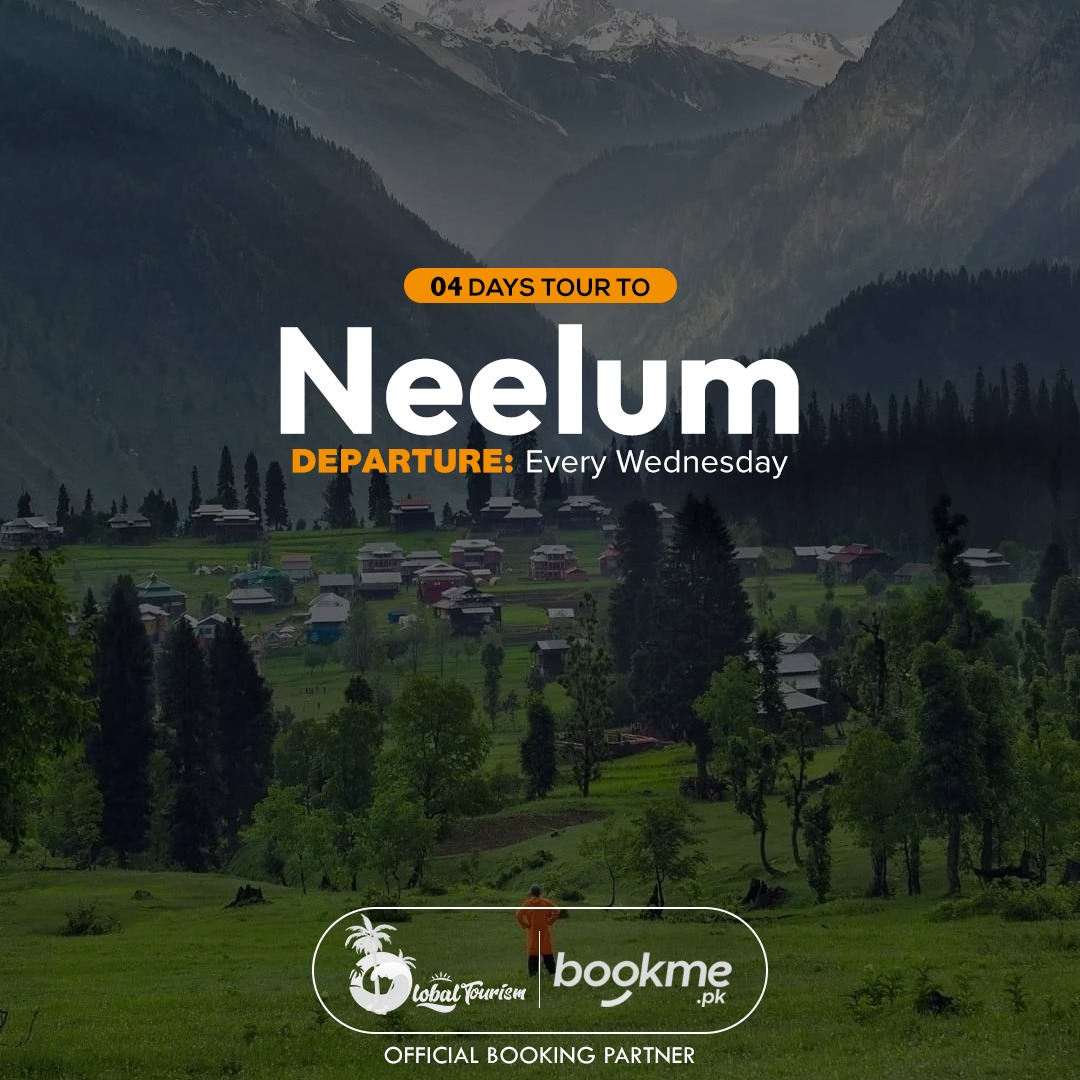 4 Days Trip to Neelum - Arang Kel
4 Days & 3 Nights
Exceptions:

Kids age 4-10 50% charges & given jumper seat.
Kids age under 4 free and given jumper seat. (Only One)


PLACES COVERED

Muzaffarabad | Neelum Jehlum Power Project | Dhani Waterfall | Kutton Waterfall | Keran | Upper Neelum | Sharda Old University | Sharda | Kel | Aurang Kel, Taobat,Etc.


SERVICES INCLUDED

• Travelling Cost From LHR TO LHR
• Travelling Cost From ISD TO ISD
• Travel Through Private Air Conditioned Vehicle.
(Saloon Coaster if 20-22 Persons)
(Grand Cabin if 11-14 Persons)
• Quality Meals (4BF + 3D)
• 3 Night's Hotel Stays as Per Plan on 4 Pax Sharing
(Beds + Mattresses)
• BBQ Dinner (1) and Bonfire (1)
• Facilities of Guide
• Basic first aid kit.
• All Tolls and Taxes

SERVICES NOT INCLUDED

• Extras at hotels like hot/soft drinks/mineral water
• Entry tickets etc
• Lunch
• Tips for Guides, Porters, Staff, etc
• Insurance and liability
• Any item not mentioned above.
• Jeep Cost if Required.

MEALS MENU

• Breakfast: Paratha + Egg + Milk Tea.
• Dinner: Chicken Karahi / Chicken Qorma / Chicken Palao / Daal / Vegetable (On rotation)

DETAILED ITINERARY

*Day 00*

Departure from Lahore: 10:00 pm

Day 01

Breakfast in Muzaffarabad 9:00 am
Continue journey towards Keran
Short stay in route at Dhani waterfall
Short Stay at Kutton Waterfall
Arrival at Keran
Visit Upper Neelum (Depends on time)
Transfer to Hotel and Explore Surroundings
Dinner and Bonfire
Overnight Stay at Keran/Sharda
Food: (Breakfast + Dinner + Bonfire)

Day 02

Breakfast 7:00 am
Departure for Kel 8:00 am
Leave for Taobat on jeeps
Visit Jamgarh Waterfall
Visit Taobutt
Visit Halmat
Dinner and Bonfire
Night stay Halmat/Kel
Food: (Breakfast + Dinner + Bonfire)

Day 03

Breakfast in hotel 8:00 am
Transfer to Jeep for Kel
Departure for Kel 09:00 Am
Explore Kel or Hike to Aurang Kel
Visit for Aurang Kel
Drive back to Kel
Dinner & Night stay at Keran/Sharda
Food: (Breakfast + Dinner)

Day 04
Breakfast at Hotel 7:00 am
Visit Old Sharda University (Optional)
Departure for Lahore
Arrival at Muzaffarabad
Departure for Lahore
Arrival in Islamabad 09:00 Pm
Arrival at Lahore 02:00 Am
Food: (Breakfast)

 (+/- 2 or 3 Hours Can be Minus or Added to Route Plan Due to Current Traffic Situation)
Pick / Drop :

Lahore: Thoker Niaz Baig
Islamabad: Daewoo Terminal near NUST EME Campus

TERMS & CONDITIONS

• Every member must keep his/her original CNIC.
• Member should have to report 30 minutes before departure time.
• Only 10 Kg Cargo bags are allowed & every member is responsible to carry its own luggage.
• Member must have to behave ethically with his/her fellow group Members
• Otherwise company can cancel his/her membership at any time.
• Company is not responsible for personal injuries and accidents.
• Company is not responsible for the loss of any kind of valuable item.
• No returns will be made in case of cancellation of booking before ONE day of departure date.
• Every humanly possible care will be taken for the safety of
members, still each venture can be fraught with endangers of unforeseen natural disasters like avalanches and crevasse falls or any other accidents and sometimes such disasters cannot be ruled out. In any such type of accident during the whole tour, the company, group leader and the tour organizers will not be held responsible in any form.
• In case of theft, loss or damage to personal belongings during the duration of the trip, organizers will not be held responsible in any case.
• On adventure trek of this type, weather, local politics, transport or a multitude of other factors beyond the control of organizers can result in a change of itinerary. It is, however, very unlikely that the itinerary would be substantially altered; if alterations are necessary the Leader and Guide will decide what is the best alternative, taking into consideration the best interests of the whole group.
• Company can cancel the booking at any time.
• Personal weapons are strictly not allowed.
• I understand to abide by the rules & regulations & by-laws of the company, to be enforced from time to time.
• I understand that the adventure/outdoor activities carry a potential risk of personal injury. I further undertake that neither I nor my heirs or legal representatives shall raise any compensation from the company.
𝐂𝐡𝐞𝐞𝐫𝐬 𝐚𝐧𝐝 𝐇𝐚𝐩𝐩𝐲 𝐒𝐢𝐠𝐡𝐭 𝐒𝐞𝐞𝐢𝐧𝐠!!