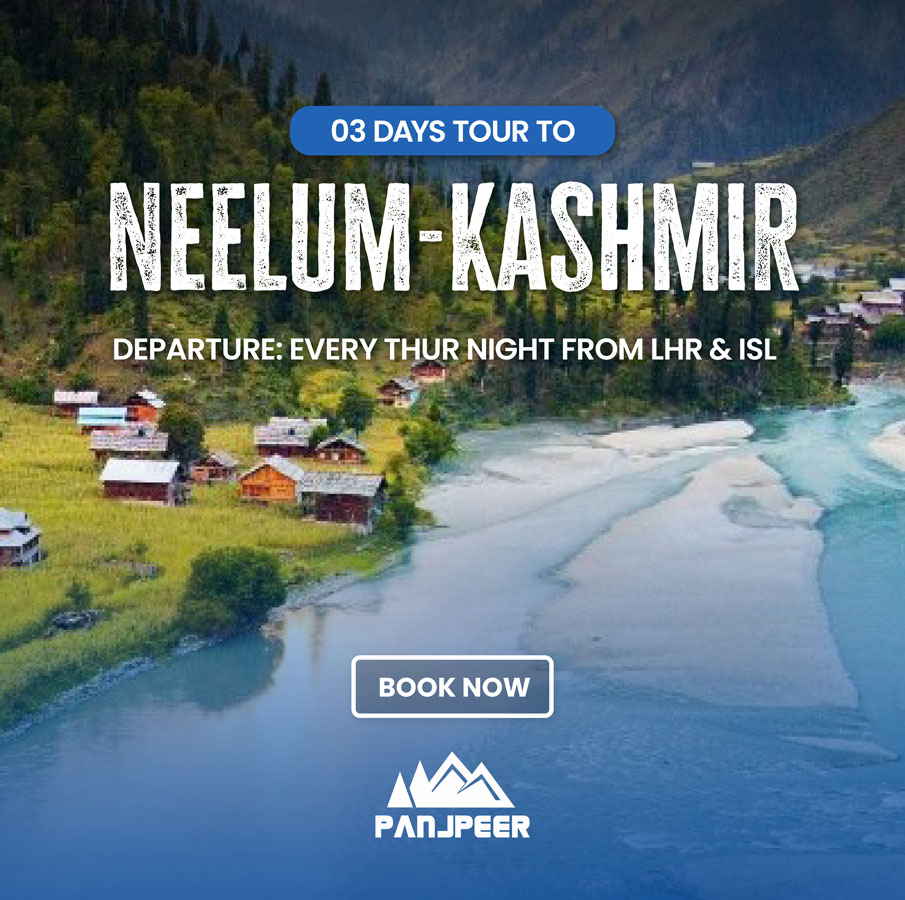 Neelum Valley & Arrang Kel
3 Days & 2 Nights
3 DAYS & 2 NIGHTS (BY ROAD)

Main Attractions & Places Covered:

Mountains, Misty Mornings, Dolly Ride, Chairlift, Bonfire & Musical Night, Jeep Safari, Bonfire & BBQ Night, Neelum Valley, Kutton Waterfall, Dhani Waterfall, Neelum Jehlum Dam, Sharda, Sharda University, Kel, Arang Kel

Day 0

Report Time: 09:30 PM Departure from Lahore at 10:30 PM, short stays on the way, drive towards Islamabad, Arrival at Islamabad Interchange around 4:00 am. Pick up Islamabad/Rawalpindi participants. Drive towards Neelum Valley.

Day 1

Arrival at Muzaffarabad (Breakfast). Leave for Keran Valley. Visit Neelum Jehlum Dam, Dhani waterfall. Reach the Hotel at Sharda Valley. Free time to explore sharda valley. Overnight Stay & Dinner at Sharda.

Day 2

Early Morning Breakfast. Get Ready for Arang Kel Beauty. Travel to Kel from Sharda via 4x4 Jeeps. Arrival at Kel & Cross the River by Chairlift. Short Trek to Arang Kel. Free Time for Photography & Sightseeing. Travel Back to Sharda before evening. Overnight Stay & Dinner at Sharda Valley.

Day 3

Breakfast early morning, Departure for Lahore/Islamabad, Short stay on the way, drive towards Islamabad, Reached Islamabad, drop Islamabad participant, Drive towards Lahore, reached Lahore, End of Service.

Included In Package:

AC Transport – (Grand Cabin/Saloon Coaster)
Accommodation (2 Night Hotel Stays)
3 Breakfasts & 2 Dinners
Fuel/Diesel/Toll Expenses
Native Tour Guide
Driver Food and Accommodation
1 Time Storytelling Bonfire
4x4 Jeeps for Sharda to Kel

Not Included in Package:

Lunch & Personal nature expenses
Fort tickets, Jeeps, any other activity charge
Rafting, Boating, Chairlift
Any sunk cost (hotel, transport advance, etc.)
Any item not mentioned in the services inclusive section
Any Extra Transport Costs due to the road conditions or snow

Notes:
●	Package prices can slightly be increased due to an increase in fuel due to a Dollar rate fluctuation.
●	The plan can be tweaked a bit during the tour at the request of participants or for their comfort. Also, due to forced/unforeseen circumstances, the itinerary can be changed at any time during the tour.

Social Responsibility:

We would like to maintain positive decorum and encourage social ethics throughout the tour. Any concerns can be shared with the tour management.

Meals and Menu:

B𝗿𝗲𝗮𝗸𝗳𝗮𝘀𝘁 includes Parathay, (Omelet/Fri Egg), Chaney/Bhujia/ Jam, Bread, Tea (Unlimited Servings)
𝗗𝗶𝗻𝗻𝗲𝗿 Includes One Chicken Item (Rice or Korma or Karahi) with Daal/Vegetable, Chapati, Cold Drinks (Unlimited Servings)

THINGS TO CARRY

Warm Trousers, Warm Jacket, Warm Hi-Neck, Rain Coat, Umbrella, Sunglasses, Water Bottle, Sanitizers, Any Personal Medicine


𝐂𝐡𝐢𝐥𝐝𝐫𝐞𝐧 𝐏𝐨𝐥𝐢𝐜𝐲:

Below 3 Years: Free, no seat will be given.
3 to 9 Years: 50% will be charged, jump seat.
9 above 100% will be charged.
Cancelation Policy:

1. 24 HRS or less, 100% cancellation charges do apply.
2. 48 HRS or less, a 100% cancellation charge does apply.
3. 3 days or more– 50% cancellation charge does apply.
4. 7 days or more – 30% cancellation charge does apply.
5. No amount will be refunded to leave the trip at any stage due to any reason.

Other Cities:

●	People from other cities can join us from Lahore & Islamabad.
●	 For people wanting to join from Karachi - we can arrange travel arrangements, hotel accommodation, and pick & drop on their additional request.