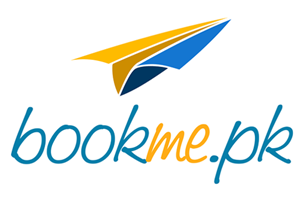 Terms of Services
By using Bookme either online or through mobile apps, you agree to the following:

The Bookme services are owned and operated by Marcopaks Solutions. These Terms of Service are a binding legal agreement between all our customers and Bookme.pk regarding your use of the services that have been made available.
Unauthorized access, distribution, reproduction, copying, retransmission, publication, sale, exploitation (commercial or otherwise), or any other form of transfer of any portion of the Site or other Service, including but not limited to all content, services, digital products, tools or products, is hereby expressly prohibited.
Bookme is a service that deliver tickets at your door step after purchasing tickets from the ticket counter. Bookme is not responsible for any loss, refunds or any other damages in case of cancellation or any other circumstance.
Placing an Order:
After placing an order, you will receive a confirmation call/SMS from our Customer Service Representative. They will confirm you whether the order is being booked or not. Once your order is confirmed, it will be our priority to swiftly dispatch your order.
Delivery Duration:
We understand the urgency of your orders and strive to ensure that tickets will reach within 3-4 hours from the time of order confirmation. Once our represenative confirm your order, then the projected delivery time will be within 3-4 hours.
Mode of Delivery:
We offer home delivery service on all orders. 10% will be charged on every ticket (as service/delivery charges). Tickets will be delivered as per customers demand. This include only two options either to be delivered on the address given by the customer or in cinema.
Mode of payment:
Currently, Bookme.pk supports two type of payments. Following are the methods:
Cash on Delivery. Once the tickets are received, customer will pay the bill to rider.
Pay through Credit/Debit card
If you pay with a credit card you will receive a call for provide a photo of your CNIC or Passport.
Privacy Policy
Personally Identifiable Information
Your use of the Site or applications and any information provided by you or gathered by Bookme or third parties during any visit to or use of the Site or applications is governed by the Bookme Privacy Policy which is incorporated by this reference. You agree to Bookme's collection, use and sharing of your information as set forth in the Bookme Privacy Policy. It is the responsibility of Bookme to make sure that information of each customer is kept private and safe.
Refund policy:
Unfortunately Cinema or Bus tickets are non-refundable and non-exchangeable. They are only valid for travel or show time on the scheduled date and time specified on the ticket you have purchased.
Permitted Use:
Our Site and applications are for your personal and non-commercial use. Every information is protected by copyright, trademark and other applicable laws. Unless otherwise agreed to in writing by Bookme, you agree that you will not use the Site or applications, or duplicate, download, publish, modify or otherwise distribute or use any material in the Site or applications for any purpose, except for your personal, non-commercial use. You also agree that you will not link to any page on the Site other than the home page (for example, "deep linking"), without Bookme's prior written consent. Use of the Site or applications or any materials or content on the Site or applications for any commercial or other unauthorized purpose is prohibited.