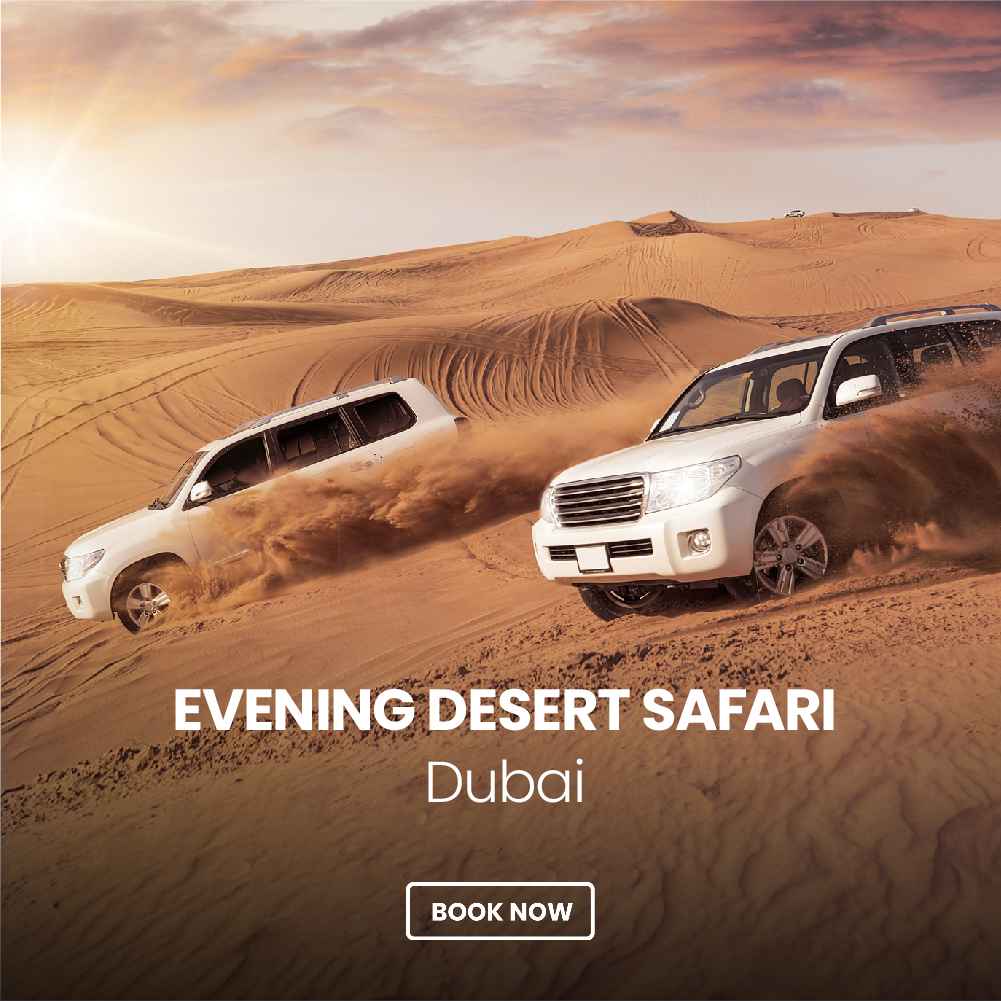 Evening Desert Safari Dubai
1 Days & 0 Nights
Embark on a thrilling adventure in the heart of the desert with Dubai Desert Safari! Brace yourself for an adrenaline-pumping ride over the sand dunes in a 4x4 vehicle, as you feel the rush of excitement with every bump and dip. 
 
Once you've had your fill of adventure, you can indulge in some traditional Arabic hospitality with a sumptuous dinner under the stars, complete with entertainment like a camel ride, belly dancing and a mesmerizing fire show. Get lost in the beauty of the desert as you watch the sun set over the dunes, and marvel at the stunning display of colors in the sky. 
 
With Dubai Desert Safari, you'll create unforgettable memories and experience the magic of the desert like never before.
 
The Desert Safari buffet is one of the highlights of the trip. Choose from veg or non veg with light music. In the end, enjoy the main attractions of the trip: the Belly Dance and the Fire show with Tanura Dance.
 Desert Safari is one experience you do not want to miss when you are in Dubai. It connects you with the roots of Dubai and its culture. Book your trip now.
 
Inclusion:
 
•	Dubai Evening Desert Safari Included: 
•	Pick up from your Hotel, 
•	House or Apartment in Dubai, 
•	Sharjah and Ajman
•	Dune Bashing by a professional licensed Desert Safari driver
•	Traditional welcome at camp with Arabic Tea, Coffee and Sunset photography
•	Arabic Sweets and Fresh Fruits, Free Sheesha Photography in Arabic Dress
•	Camel Ride (Short Drive Included) Sand Boarding
•	Henna painting
•	Refreshment with unlimited water, tea, coffee and soft drinks
•	International buffet dinner with barbecue (vegetarian and non-vegetarian dishes)
•	Full light and sound performance on and around the stage Camp
•	Belly dance show
•	Fire show Captivating Tanura dance entertainment
•	Alcohol available at camp (additional charge)
•	Return to your hotel, home or apartment.  
•	Additional Information: 
•	All our drivers have a License from the UAE Government for Safari
•	All our vehicles are absolutely insured and consistent with the protection necessities of UAE laws.
•	Dinner (Veg & non Veg) / BBQ / Cold & Soft Drinks covered in Evening Package
•	We do Pick & Drop from Cruise Terminal Port Rashid Dubai
•	All our vehicles are SUV 4x4 with Clean Seats & Air Conditioner.
•	We receive Cash at Pick Time in Australian Dollars / British Pounds / Euro / Saudi Riyal / Omani Riyal / US Dollars
        
Tour Timing: Hotel / Apartment
Additional Duration: 06 Hours Approx.
Availability: Daily,
Additional Language: "English/Arabic",
Additional Options: 
•	Quad Bike 20 Minutes
•	Dune Buggy Single Seater 30 Mins
•	Dune Buggy 02 Seater 30 Minutes
•	Dune Buggy 04 Seater 30 Minutes
•	Camel Ride 30 Minutes
•	Food on Table Service
 
Important Information
 
Cancellation of tour reservation prior to 24 hours will be fully refunded
Cancellation within 24 hours is not acceptable. The full amount will be charged.
Refund mode of payment would be the same as received
Online payment refund takes 14 working days to reflect amount into your account after processing.

Note*: The price does not include visa or ticket cost.