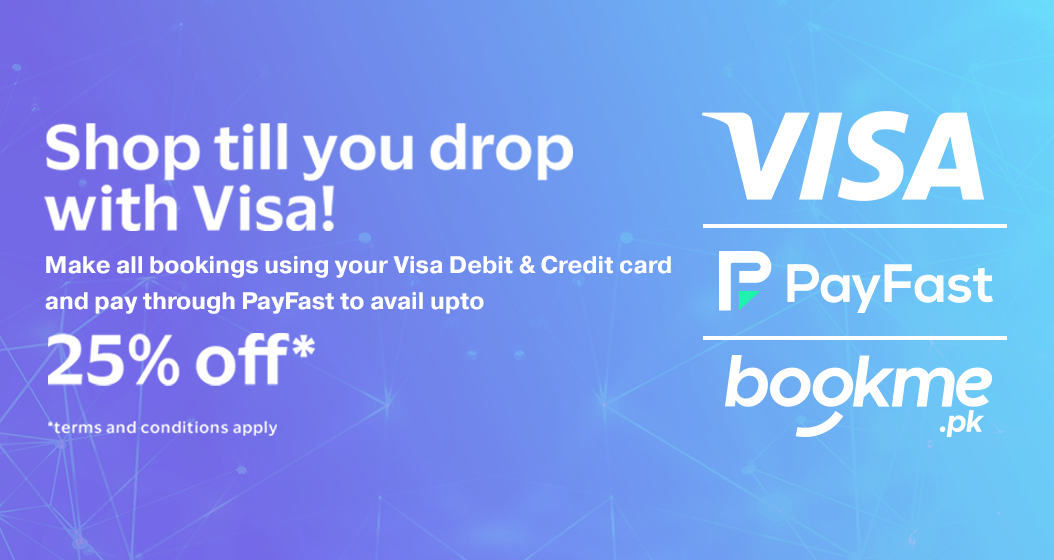 Avail Up to 25% Off on Visa Cards When Paying Through PayFast
In another move to alleviate customer services and provide higher discounts to our users Bookme has entered into a strategic partnership with PayFast, one of Pakistan's top digital payment gateways. Online payments have rapidly gained popularity throughout the pandemic and many users prefer to pay online, avoiding the hassle of cash handling.
Under this new partnership, bookme users can book their tickets to dream holiday or their favourite movie using a Visa Debit or Credit card, paying through payfast and avail amazing discounts upto 25%.

Visa cardholders can enjoy a 10-25% discount with the maximum limit set to PKR 1000. The discount can be availed on any of the services of Bookme.pk with the only conditions for payments being a transaction through PayFast.
Please note that PayFast and/or VISA reserve the right to amend the rules or discontinue/terminate the promotion at any time at its sole discretion.
Now travel with discounts higher than ever!
Avail multiple discounts on your travel tickets online through Bookme.pk