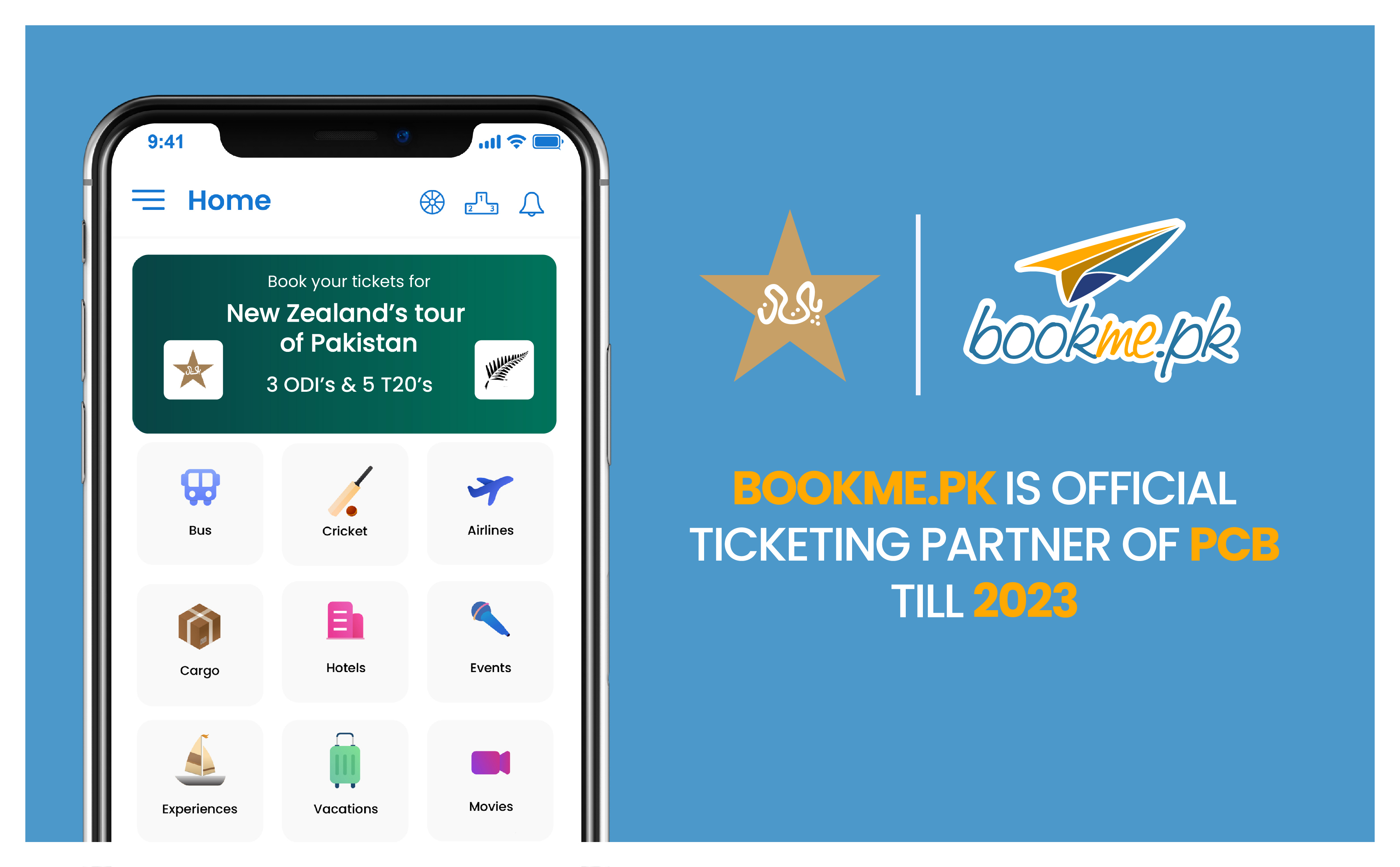 Bookme is the Official and Exclusive ticketing partner of PCB for the term 2021-2023
Bookme is Pakistan's first and largest online ticketing platform with over 4.6 million active customers in the transport and entertainment industry. Bookme is integrated with major payment platforms such as bank transfers, credit and debit cards, VISA and MasterCard, as well as Jazzcash and Easypaisa to ensure a seamless and cashless payment experience for its customers.
Bookme.pk has been appointed as the official ticketing partner of PCB for the term 2021-2023 from next week's ODI series against Pakistan and Newzealand.
The partnership was a result of competitive Bidding. Bookme.pk proposed extraordinary ticketing solutions including all the available means, i.e., online, Retail and On-site ticketing solutions. Also, COVID protocols are integrated in every step of the customer journey while booking tickets, be it Retail, or on-site.
According to PCB, spectators will have access to 25% of the total capacity in order to follow social distancing protocols.
PCB Chief Operating Officer Salman Naseer says, "We are delighted to have fans back for the Pakistan-New Zealand series and with a quality and renowned tickets service partner in Bookme.pk, we are confident of making the best possible ticketing arrangements for the fans while ensuring their security and comfort in both Rawalpindi and Lahore. We have entered into a strategic agreement with Bookme.pk which covers the action packed home cricket season, domestic and women's cricket for the next two years. While at this stage we can only accommodate 25 percent fans, we are hopeful of providing more opportunities for fans to witness live action in near future. The partnership with Bookme.pk will surely help both parties in the longer run, especially once we have overcome the Covid-19 pandemic related challenges, as we keenly look forward to hosting England, the West Indies, the HBL Pakistan Super League and the tour of Australia in what promises to be an absolutely enthralling 2021-22 home cricket season. For us the health and safety of the fans is of paramount importance and while we wholeheartedly welcome them back, we request them to strictly follow the applicable Covid-19 SOPs as they enjoy the top quality cricket action."
Faizan Aslam, Chief Executive Officer of Bookme.pk says, "We are super excited to digitize the ticketing experience of PCB as their official and exclusive ticketing partner till 2023. Bookme is geared up to ensure contact-less and digital services for our cricket fans in these difficult times. PCB's faith in Bookme has been sustained by our performance in the past PSL event, and our team is ready to offer quality service to cricket fans while strictly following the COVID SOPs. Bookme has done r