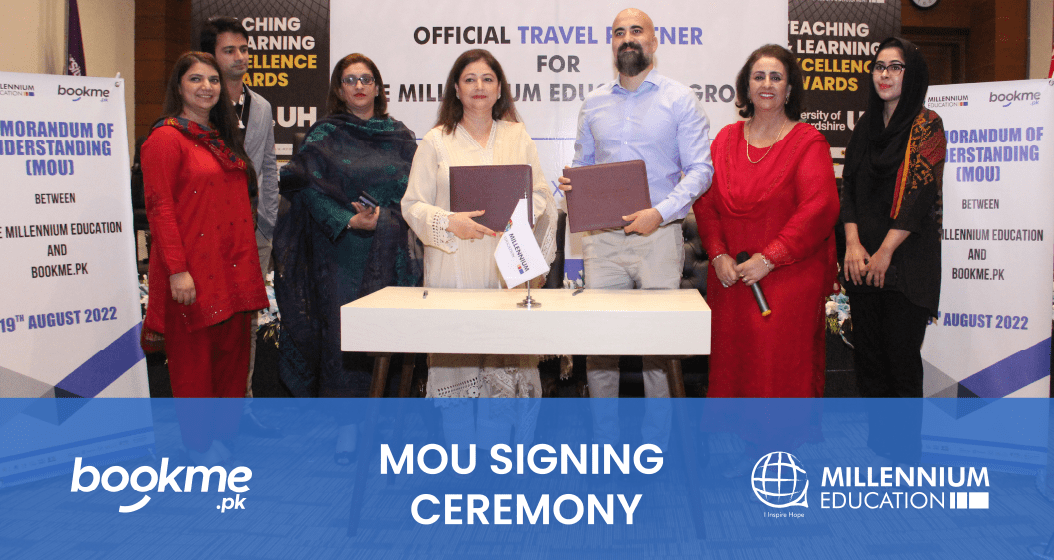 Bookme X Roots Millennium
Yet another milestone as we work day and night to bring a discounted travel revolution across the Education Sector in Pakistan. Bookme signs another companionship with one of the leading private education systems in Pakistan.
Roots Millennium Schools & Colleges - TME , founded and led by Chaudhry Faisal Mushtaq TI who has also been a former caretaker provincial minister for the education of Punjab has welcomed the Student and Employee discounted Travel solution for his Roots family provided by Bookme, the leading online ticketing and booking platform. Being the home to 13000 students and hundreds of faculty members, The Millennium Education Group has been providing education for 35 years, having the biggest K-12 Teacher Training Institute.
The MOU signing ceremony involved the signing done by our Chief Communication Officer, Mohammad Omar Shahid; Strategic Partnership Lead, Salman Wajahat; Partnership Manager, Sayyada H. - and team of The Millennium Education Group including, GM Digitalization & IT, Madiha Saad; Corporate Manager Digital Marketing & Recruitment, Uzma H. ; Assistant Manager Communication & Out Reach, Saba Naz.
Thank you - for hosting a great signing ceremony of this partnership.
Bookme aims to make ticketing and travelling smooth.