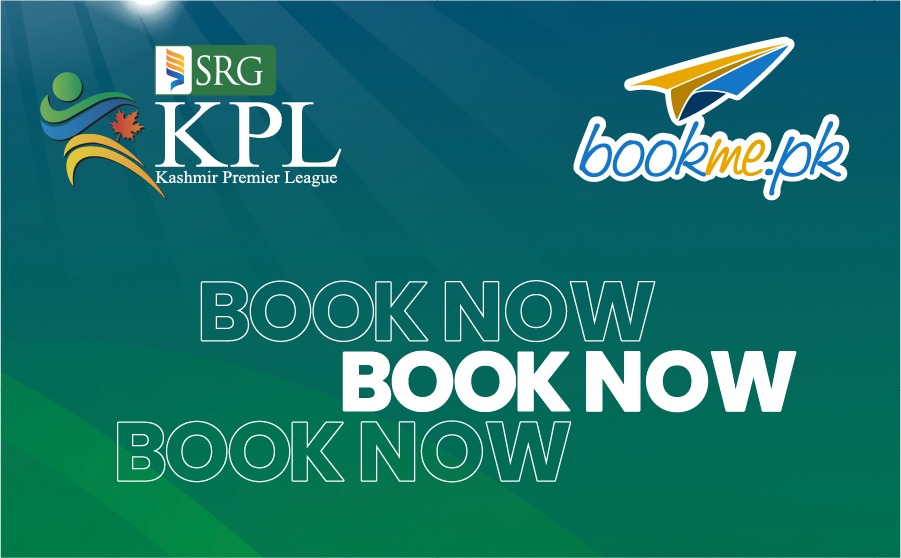 Get your KPL tickets online exclusively from bookme.pk
Bookme.pk has been appointed as the exclusive online ticketing partner for the Kashmir Premier League starting from the 6th of August.
Lahore, 5th August 2021
Bookme is Pakistan's leading e-ticketing platform with over 4.6 million customers in the transportation and entertainment industry. It has been appointed as the official e-ticketing partner for the Kashmir Premier League, which commences from 6th August to 17th August 2021 in the capital city of AJK, Muzaffarabad. Cricket enthusiasts can now book their tickets at the convenience of their homes through Bookme's app and website.
bookme covers cinemas, hotels, buses, and airline tickets on a completely cashless model. To provide an omni-channel cashless experience, bookme.pk is integrated with almost all of Pakistan's payment platforms, such as bank transfers, credit and debit cards, VISA and MasterCard, as well as Jazzcash and Easypaisa.
It provides an option for people to follow COVID-19 SOPs in the face of the anticipated fourth wave by booking and paying for their tickets online. In order to follow social distancing protocols, only 33 percent of the stadium capacity is being utilized for seating. So book now to support your favorite team in the KPL.
More details about ticket pricing and availability can be found on Bookme's website and application. So book your tickets now with Bookme and ⋕kheloAazadiSe
If You want to know more about KPL's schedule, venue, and other details, kindly visit KPL for the latest updates.
Faizan Aslam, CEO of bookme.pk, commented; We are grateful to the Pakistan Cricket Board for providing this opportunity to serve our country in the most popular game in Pakistan. Bookme will provide contactless and secure digital services for fans in the new normal, allowing them to get tickets with a single click from the comfort of their own homes. This event will bring joy and happiness to millions of people, and we are proud to play our part in the process.